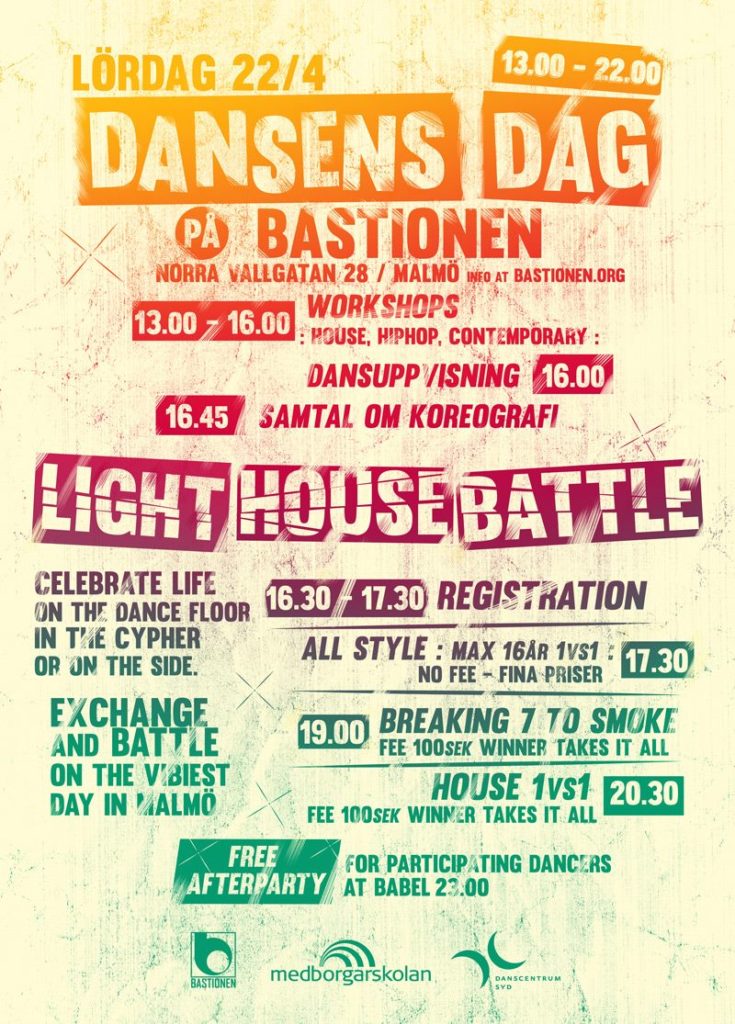 Program för Dansens Dag på Bastionen, Norra Vallgatan 28, Malmö
Workshops i Bastionens Teater
13:00 – 14:00 Capoeira – Morris
14:00 – 15:00 House – Andreas Sanchez
15:00 – 16:00 Nutida – Iver, Viktor Fröjd
Workshops i Bastionens Danssal
14:00-15:00 Hiphop – Theresa Gustavsson
15:00 – 16:00 Nutida – Nidia Martinez Barberi

Pris: 100SEK/ workshop.
Medlemmar i Danscentrum SYD dansar gratis. 
16.00 Dansuppvisning
16.45 Samtal om koreografi
LIGHT HOUSE BATTLE
Celebrate life on the dance floor, in the cypher or on the side. Exchange and battle on the vibiest day in Malmö
16.30-17.30 Registration
17.30 All style max 16år 1vs1
NO FEE – Fina priser
Judges: Theresa Gustavsson, Moa Söllgård, Rubbish.
19.00 Breaking 7 to smoke
FEE 100SEK Winner takes it all*
Judges: Amer 'AMZ' – Wize Guys, Tunde – Villain State Of Mind (DK), Rubbish – Grounded.
20.30 House 1vs1
FEE 100SEK Winner takes it all*
Judges: Andreas Sanchez, Theresa Gustavsson; Viktor Fröjd
* Winner takes it all: All participants pay 100skr/category each and the winner gets it all. The more participants the more prize money, so tell your friends to come!
DJ
Break – Original Renegade
House – Farsta Kalle
All Style – Dj Soulstream
Host
Dirty Jens
THE EVENT IS MADE POSSIBLE WITH KIND SUPPORT FROM BASTIONEN; DANSCENTRUM SYD AND MEDBORGARSKOLAN
Kontaktuppgifter för biljettbokning eller info:Anmälan sker här: https://docs.google.com/forms/d/e/1FAIpQLSdghhBVFxw0Klc0UKVs1DZHoNSzLsn0h5zDk_1K5gup5rRdKg/viewform Betalning sker på plats. Kontanter eller swish.
Till Biljettförmedling
Taggar