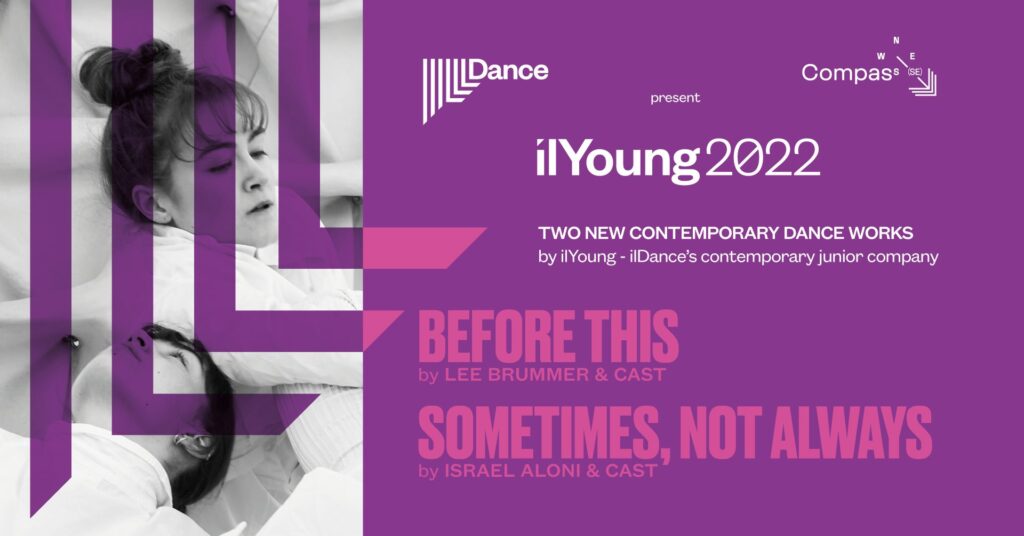 ilYoung presents two new contemporary dance works this August and September in an 11-performance nationwide tour.
'Before this' and 'Sometimes, not Always' are the upcoming productions by ilDance's professional junior dance company.
Before this
by Lee Brummer and the cast of ilYoung 2022
This piece is inspired by the different stories of individuals; stories of loss, triumph, love, courage, life events and incidents which, when combined, all form the mosaic of both our personal lives and of our society as a whole.
Sometimes, not always
by Israel Aloni and the cast of ilYoung 2022
The work reflects on the notion of borders as such. It aspires to expand what is considered as part of a huWOman* being and sequentially, impact the way in which we interact with the world. The notion of borders, both physical and metaphysical, is inscribed in most perceptions of the world. To truly evolve in time, we might be required to experiment with physical and conceptual plasticity.
*HuWOman is a textual adaptation Aloni invented to place the woman within the reference to the human being and subvert the patriarchal power dynamics that still persist in our societies.
Kontaktuppgifter för biljettbokning eller info:bokning@malmoopera.se, 040-20 85 00
Datum & tider
| Datum | Tid | Ort | Plats | Länk |
| --- | --- | --- | --- | --- |
| Tisdag 30 Augusti | 19:00 | Malmö | Skånes Dansteater | Biljetter |
| Onsdag 7 September | 14:00 | Helsingborg | Dunkers Kulturhus | Biljetter |
| Torsdag 8 September | 18:00 | Helsingborg | Dunkers Kulturhus | Biljetter |
Till Biljettförmedling
Läs mer hos arrangören
Taggar