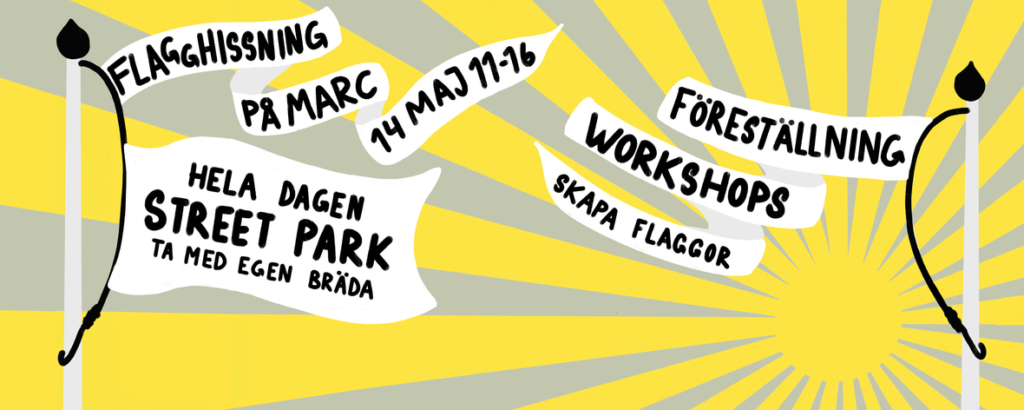 Milvus Artistic Research Center warmly welcomes you to the presentation of three new flags within the project Upplysa and a day of performance, workshops and skateboarding.
Program:
11.00 – 12.00, Flag raising and fika
12.00 – 14.00, Make your own flag workshop. Outdoors by the flags with dancer and choreographer Nellie Björklund.
13.30 – 14.30 Movement fossils, Performance with the dancer and choreographer Anna Perhsson.
14.30 – 16.00, Movement fossils dance workshop with Anna Perhsson.
During the day we welcome you to bring your own skateboard to use in our street park.
Free and for all ages!
What: MARC-UP's commitment to experimentation and solidarity manifests in Upplysa (Illuminate), a collection of interventions and actions in the liminal space where the old shoe factory begins and ends. Upplysa includes the enlivening of the three flagpoles flanking the entrance to the factory. Artists are invited to compose flags of their own, which fly for the town to see, becoming an invitation for neighbours and passersby. The series is curated by Alex Fisher with financial support from Svenska Postkodstiftelsen.
The eighth round of flags are designed by Kelly Evertsson (SE), Sofie Præstgaard (US), and Bradley Waller (US/DK).
After the flag raising, we welcome you to skate in our street park, make your own flag and see the performance Movement Fossils with Anna Perhsson. After the performance you'll get the opportunity to attend a Movement Fossils dance workshop with the artist.
Light refreshments will be served.
The event is free and no reservations are required.
Where:
Milvus Artistic Research Center (MARC)
Lejongatan 10, Knislinge 28933
Parking is available on site.
Kontaktuppgifter för biljettbokning eller info:kajsa@milvusart.se
Datum & tider
| Datum | Tid | Ort | Plats | Länk |
| --- | --- | --- | --- | --- |
| Söndag 14 Maj | 11:00 | Knislinge | Milvus Artistic Research Center (MARC) | |
Läs mer hos arrangören
Taggar